DEWS won the Destination NMB Impact Award for Excellence in Customer Service last night, Thursday, 3/30/23.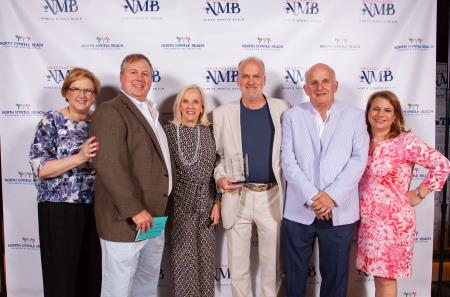 Established on September 19, 1947, Mabel & James Dew opened Dew Company on Main Street, North Myrtle Beach, in what was then, Ocean Drive Beach. It was the epitome of the old-fashioned neighborhood store where everyone stopped by for a cup of coffee; got caught up on the local news and happenings; and checked-out the latest and greatest appliances and supplies.
Now operated by second generation owners, Teressa, Linley and Joe, DEWS Appliance, Cooling and Heating continues to stand on the principles of trust, convenience, responsiveness and service after the sale. Through their friendly staff and helpful team of specialists, DEWS strives for personalized customer attention, quality and value-added service. "We strive to return that personalized attention to the consumer that has taken a back seat to discount volume and corporate bottom lines," says Teressa Dew. "It has been our way of life for 75 years!" Many of the original customers and their families still entrust their appliance needs to DEWS.
The real success of DEWS longevity is their team, which the owners think is the very best. Each and every member really cares about their customers and always goes the extra mile to help in any way they can. With a team that includes members who have been with DEWS for over 50 years, along with recent additions, all members are invested in DEWS and the high level of customer service that is DEWS hallmark. "It just comes as second nature to this talented, dedicated crew and we and our customers are so very fortunate to have them all", says Teressa Dew.
"We are here for the long haul. We want to be the best," said Linley Dew. "We don't want to just sell a customer something. We have and always will provide a customer with what they need. We're DEWing it right today, tomorrow and for the next 75 plus years."